YOKOMO RWD Drift Car YD-2SXIII Assembled Chassis "FULL OPTIONAL" Black Version (DP-YD2SSAB)
For users who demand better products and the best performance, this is a full-spec chassis that has been assembled and delivered by introducing the ultimate optional parts to the YD-2SXIII, which has a high approval rating from expert drivers.
Rather than adding parts to the base machine later, by realizing full options in the initial state, unnecessary parts are excluded and relatively cost reduction is possible. Moreover, it is an assembled chassis that is often requested by users, and high-ever shakedown is possible.
Optional parts to be added to YD-2SXIII
■ Graphite battery holder
■ Aluminum integrated front axle
■ Aluminum variable rear short A arm
■ Variable kingpin front SP ST block set
■ Graphite bumper / bumper brace
■ Low friction front axle bearing
■ Aluminum 30mm rod end adapter
■ Aluminum 23mm rod end adapter
■ Aluminum front upper I arm
■ Aluminum adjustable suspension mount set
■ Titanium Φ4.8mm ball end set
■ Titanium coated shock shaft
■ Fluoro rubber hyperdiaphragm
■ High grade O-ring
Pre-assembled chassis
What you need to drive: 2-channel radio set (transmitter / receiver / speed controller / servo), battery (Li-po 2 cell / square short size), charger, 1/10 size for drift tires and wheels, motor, body (for one-tenth the size of drift), polycarbonate paints
The kit does not include body, wheels , tires, motor, batteries, pinion gear, and other R / C electrics.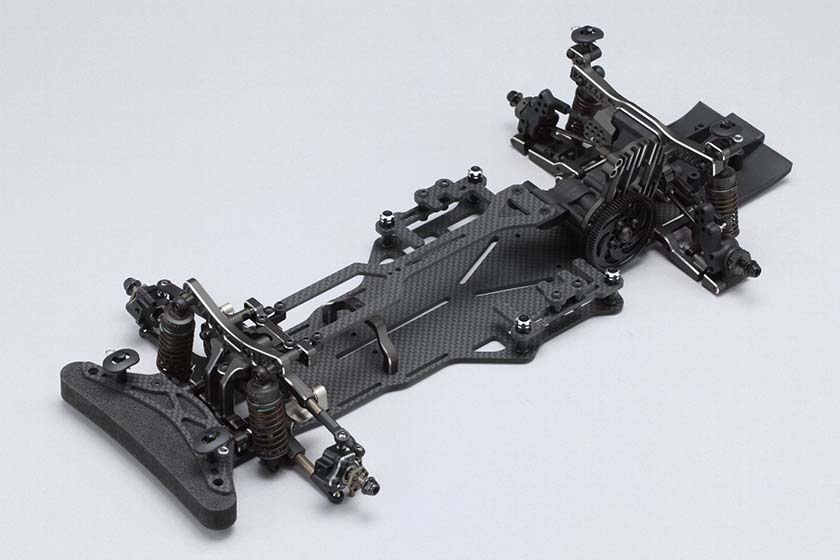 Assembled chassis assembled with kit standard alignment. Not only does it save you the trouble of assembling, but a well-balanced machine is ideal as a base machine.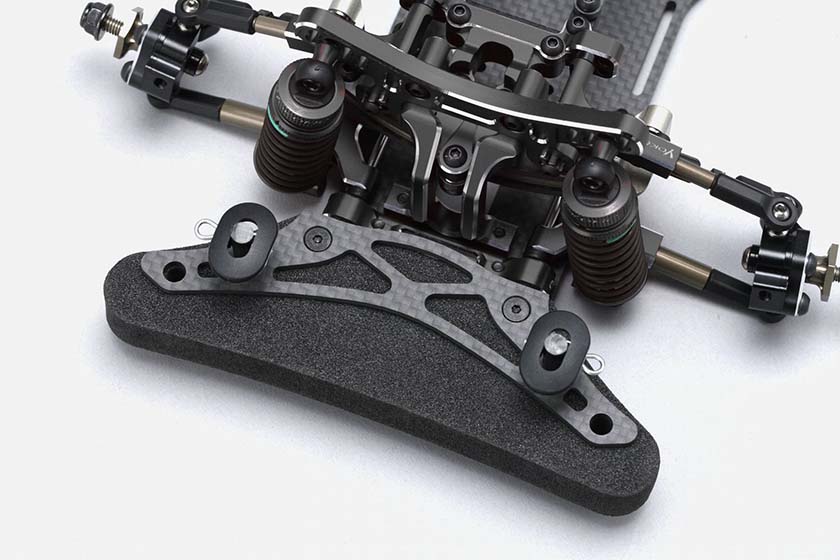 Graphite bumper that finishes the front part lightweight.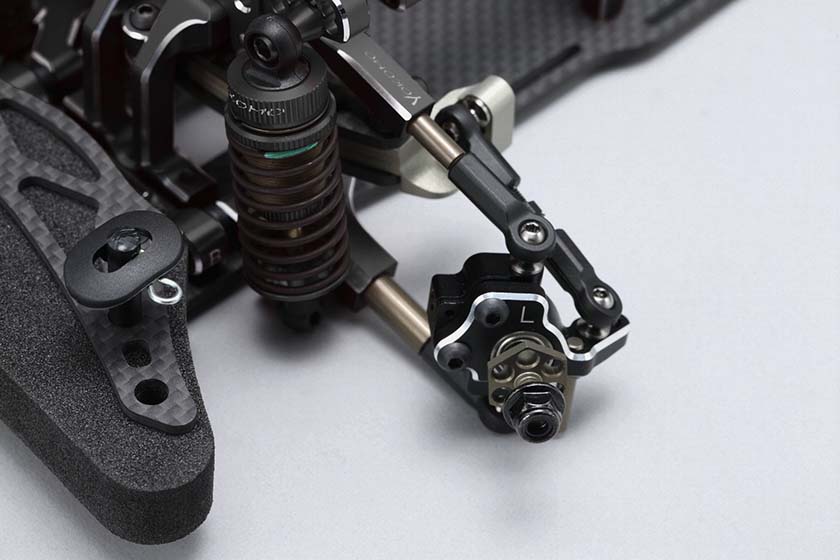 Aluminum variable kingpin steering block that can change the ground camber during steering to bring out the running of the front tires.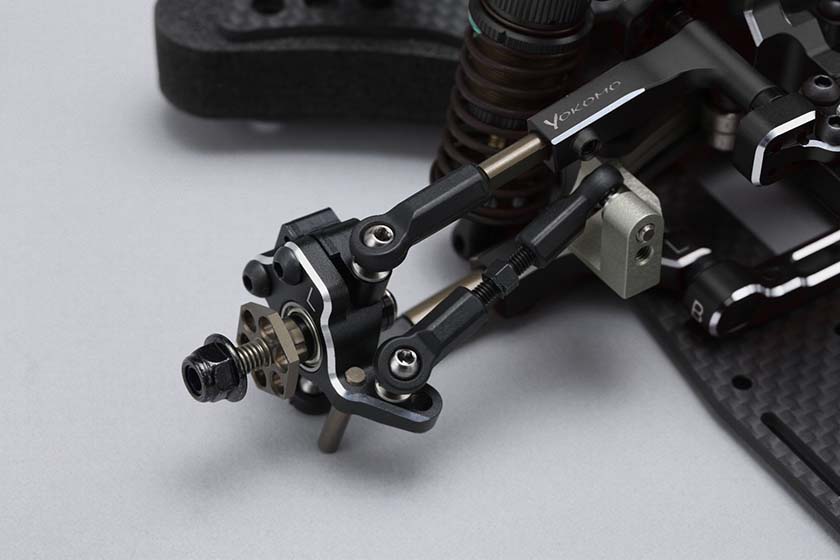 Around the front, which is hardened with many optional parts such as aluminum lower / upper suspension arm, rod end adapter, aluminum integrated axle hub, and titanium rod end ball.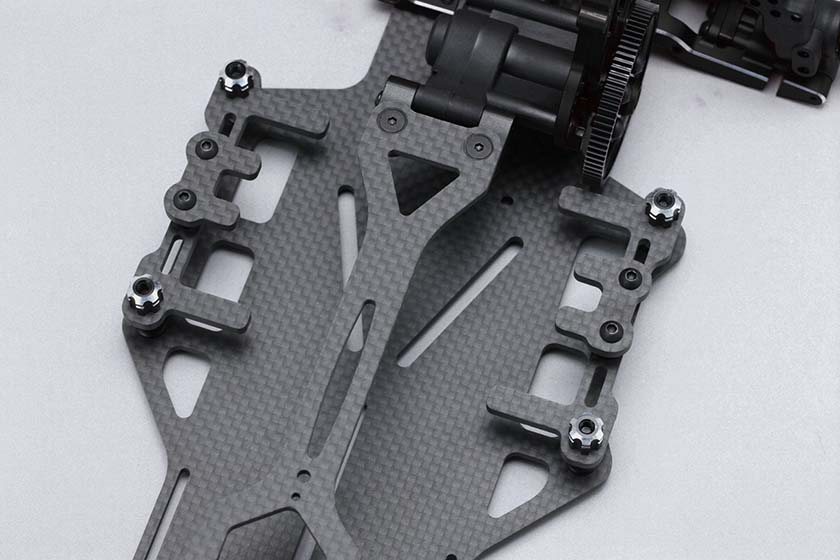 The battery holder is also made of graphite. (For short Li-po only)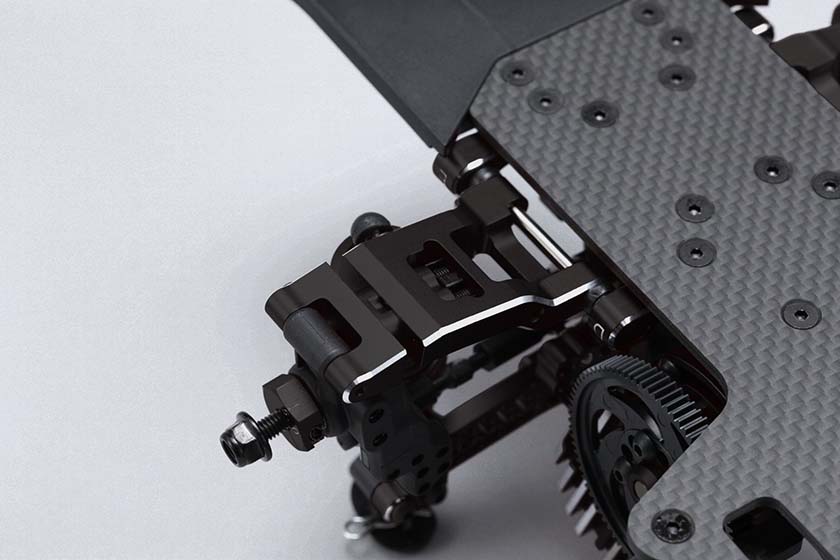 The rear suspension arm is made of aluminum with a changeable tread width.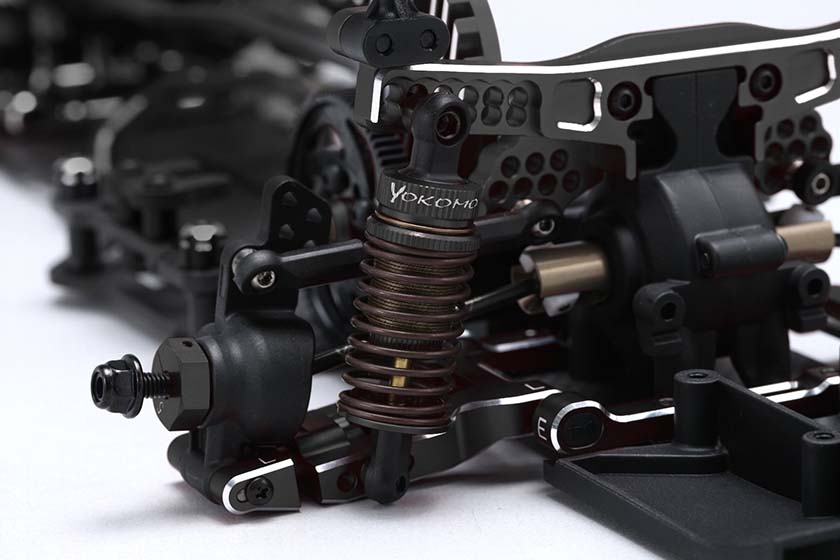 Titanium-coated suspension shafts, fluororubber diaphragms, high-grade O-rings, etc. are also used for height-adjustable shocks to fine tune the suspension operation.
* We do not guarantee driving performance on specific road surfaces. The customer who purchased the product is responsible for setting the machine according to the road surface and adjusting the vehicle height.
* For convenience of packaging, the front and rear bumpers, body mounts, etc. will be removed before sale.